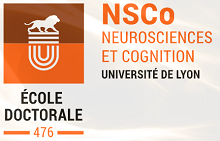 The 2021 doctoral contract competition of the NSCo Doctoral School of the University of Lyon offers the possibility to obtain ministerial thesis grants ensuring a 3-year work contract. This year, five grants were open for Lyon1 and two for Lyon2.
Congratulations to the five CRNL candidates selected by the ED NSCo!
For Lyon1 University :
Laure Fivel, ranked 1st with the thesis topic: "Neural basis of spatial sound localization and its relationship to internal/external confusions in patients with schizophrenia"
Anthony Clerc, ranked 2nd with the thesis topic: "Visual exploration of faces as a marker of cognitive functioning in patients with consciousness disorders"
Laetitia Imbert, ranked 3rd with the thesis topic "Combining olfactory hedonics training and brain stimulation to decrease anhedonia and investigate related brain functioning alterations in patients with major depression"
Maeva Thiebaud, ranked 5th with the thesis topic "Molecular mechanisms of adaptive forgetting"
For Lyon2 University :
Felipe Pedraza, ranked 2nd with the thesis topic: "The temporal dynamics of the acquisition and rewiring of probabilistic information"