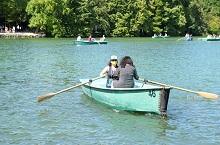 On Saturday afternoon, August 28, 2021, at the initiative of the CNRS, about thirty researchers embarked on the lake of the Parc de la Tête d'Or to present their research to the general public.
Two CRNL researchers (Nadine Ravel and Maud Beaudoin) were able to show their work to a few privileged people during a boat trip!
A great experience to make our work accessible!
© CNRS Rhône Auvergne